Get More Business
with BLOGGING!
FREE Webinar
Taught by Pat Iyer & Debra Lloyd
Register Now
WHAT will you LEARN from this FREE Webinar?
Find out exactly why you can get more business with blogging. More traffic converts into qualified leads and increased profits.

Learn how you can quickly maximize the benefits of blogging to improve credibility confirm your authority, and grow your business fast.

Discover the secrets of successful blogging… the What, the Why, the How…
and much, MUCH more!
Blogging for Business Learning Resource
Deepen your knowledge with our program Learning Resource. You will receive the slides, transcript and bonus tips when you order the supplement.
Order here for $9.97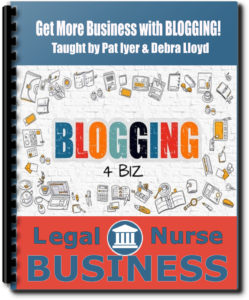 Pat's focus will be on what she knows and loves, so she'll be teaching you about what blogging can do for your business.
You'll learn critical and valuable tips just by joining us on the Webinar. Register to watch the replay here.
November's Related Product Get More Business with BLOGGING! Free Webinar